Toronto Athletic Camps (TAC Sports), operating since 2011, is unique among sport education academies. TAC Sports develops athletes and leaders. We create a positive environment full of support and motivation.  We strive to build the life skills, sports skills, and self confidence of our students. Our systems and methods are developed by Kinesiology and Sports Psychology graduates, using the latest cutting edge methods in sports psychology and physical development in order to achieve the greatest growth in our students.
5 Star Development System: The 5 Star Development System gives students 5 measurable levels with specific criteria to achieve. This helps our students with their motivation, knowledge and development in each sport they are learning.
Student Tracking System: The students are assessed in a thorough manner to ensure they are placed in the right level of the development system. They are consistently tracked from program to program and re-assessed with frequent progress reports at the end of each program.
Complete Program Support System: TAC Sports offers a complete range of programs to ensure that every student is getting the exposure and skills they require in their stage of development.
Top Quality Coaches: TAC Sports has a rigorous coaching assessment system and hires only the best coaches. The coaches need to be not only qualified in their sport field, but also have a great energy and passion for teaching skills to children. We have a comprehensive training centre and thorough testing for our coaches, making sure they have the support to excel.
Dedicated Leadership to the Sport Education Field: The Directors of TAC Sports have degrees in Kinesiology and Sports Psychology. They hold significant experience in the sport education industry and bring all their knowledge and skill sets to TAC Sports.
Memorable and Safe Experience
With specialized sport instruction, low student-to-coach ratios and an encouraging learning environment, every student will get the level of attention required to improve their skill level. Our challenge levels ensure that our students are progressing at a pace that is safe for their current development levels. Children can choose to specialize in one of four sports: tennis, basketball, soccer, mixed martial arts, dance and swim.
Confidence, Spirit & Fun
TAC Sports Camps are fun. A lot of fun. Parents love when their kids can be having so much fun they don't even realize they're learning new skills. Athletes across multiple sports working to reach their potential, the energy felt at programs is unlike any place in the world. We offer a variety of on- and off-campus activities during kids stay.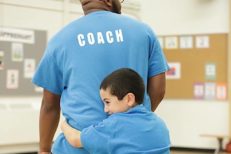 Coaching
The coaches provide a physical literacy assessment of each child at the beginning of lesson programs and camps and then place children in groups accordingly. The coaches take the time to really know all of the children. From the mini-star® stage to the mega-star® ranks, our sport instructors have experience coaching at every level focused on delivering expert instruction in each sport at Toronto Athletic Camps.
Facilities
Students engage in dynamic skill training, games, and tournaments while building confidence and skills in the beautiful and safe facilities. Both indoor and outdoor options available for year-round lesson programs and sports camps.
Sponsors
TAC Sports' Accreditations
All our coaches are accredited from the following organizations.
Ontario Tennis Association (OTA)
www.tennisontario.com
Tennis Canada
www.tenniscanada.com
National Coaching Certification Program
www.coach.ca
High Five Sports
www.highfive.org