At TAC Sports we're dedicated to helping our campers and students improve their confidence, skill, knowledge and leadership abilities.
We believe strongly that the best athletes have the best parent support, and that's why we have so much information available to parents through our Youtube channel and through our Blog and 5 Star Development system.
We love supporting parents, and we love when parents support their children in the best way.
We believe that a supportive environment with accountability creates elite athletes and productive leaders.
Provide Accountability

Become Knowledgeable

Feed the Dream
Provide Accountability
Providing accountability is the greatest show of love that a parent can give! Ensuring your children are held accountable to practice the skills that students have learned at camp is a great way to help them improve. Lampard, a great soccer player, stated in his book "Being Frank", that his dad would ensure he did his 'midfielder sprints' daily, ensuring that he stayed fit, and stayed sharp. Gretsky's Dad would ensure his son studied the game of hockey, and not just watched it, and ensured that he would practice on the rink that he built daily.
We can take many examples from P.K Subban's (professional hockey athlete) Dad, Karl Subban, who now has 3 sons in the NHL and daughters also involved in competitive sports.
"A key component of the success our daughters and sons have experienced was the value we placed on practice. Practice mattered more to me than games. I realize now that one of the best gifts I gave our daughters, Taz and Tasha, and our sons, P.K., Malcolm and Jordan, is helping them be good at something at a young age. It builds self-confidence."
Karl and Maria Subban developed their family into a full team of professional athletes (courtesy of the star.com)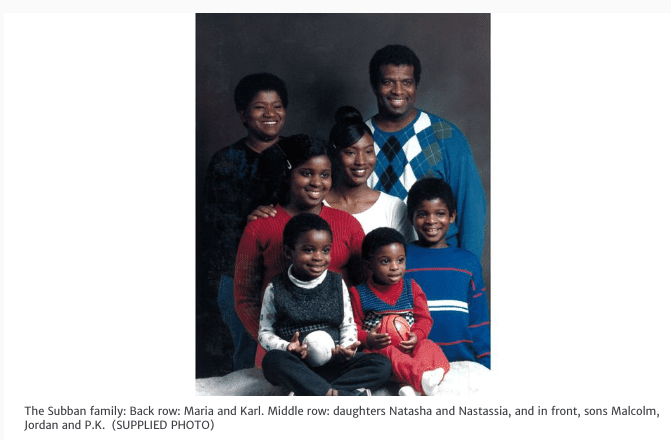 Become Knowledgeable
The more knowledgeable a parent is in the sport, the greater chance they have at supporting their child's development. Knowing what your child needs is going to help you to supply them in helping them in their game
We have TACXPerformance, TAC TALK Podcasts, Soccer, Basketball and Tennis playlist on our Youtube Channels that help support parents in their knowledge of:
Strategy
Skills

(and what they look like, how they are executed)

Progression
Physical Skills and what your child need
Nutrition
PARENT KNOWLEDGE: Even though P.K. was an above-average skater for his age, I wasn't satisfied with his ability. I knew that the more he did it, the better he'd become. The winter he was in senior kindergarten, 1994-95, the goal for P.K. was to skate every day — and the earlier in the season that started, the better. That meant hitting Nathan Phillips Square at 10 p.m.
-Karl Subban, on understanding skating ability

Feeding the Dream  
Parents have to feed the dreams of the players and help to build a vision for children. Children are often looking for a vision and need their passion filled and fed.
This is perhaps the single most important thing you can do as a parent, to foster love for the sport. Their sport should become their obsession, and they should make practice their daily valentine.
Children look to parents to be their role models. My Dad certainly was one and he always played with my brother and I, and fed our dreams of being competitive soccer players.
Karl Subban and his wife did the same for their whole family of professional athletes:
FEEDING THE DREAM: When you feed a dream, you make it stronger and more likely to happen. That is what Maria and I did as parents. We watched games together on TV and made time to be with our children as they practised, trained and played. Over time, I realized the importance of not only feeding the hockey dream but also building those life skills associated with being a good person.- Karl Subban
Happy Valentines!
Give your children chances to play!
LETTING YOUR CHILD PLAY: Children love to play. That's how they spend the majority of their waking hours. Starving young children of the opportunity to play is denying them a rite of passage. Maria and I took full advantage of our daughters' love for basketball and our sons' passion for hockey as a tool not only to teach them the importance of being good at something but also to grow life skills. Hockey skills make you a good hockey player; life skills make you productive, happier and healthier over your lifetime. – Karl Subban